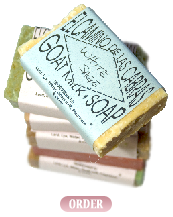 Raw Milk Soap - Our goat milk soap is made the old fashioned way; we mix water, lye, lard, goat milk, and add color and fragrances. The process of soap making is called saponification. This is what happens over a period of about six weeks after the lard and lye and goat milk are mixed together. The strong alkaline lye solution chemically combines with the lard to form soap. The goat milk adds a moisturizer for your skin that is free of chemicals. Our natural bar contains no fragrances or colors, which makes it good for sensitive skin. We also make another version of the natural soap that contains oatmeal, which is good for irritated skin. Our soaps are made in a variety of herbal fragrances including melon, almond, peppermint, rosemary, lavender, patchouli, ginger and many more..

We also make an olive oil based soap that has coconut oil, vitamin E, oatmeal and honey, and goat milk. This comes in a citrus scent or lemongrass/sage scent.

We are open at the ranch for customers to come out and buy milk, cheese and soap on Tuesdays, Wednesdays and Fridays from 10 am to 6 pm, but please call (325) 450-6861 first and make sure we have product available.